Bike camping the Greenbrier River Trail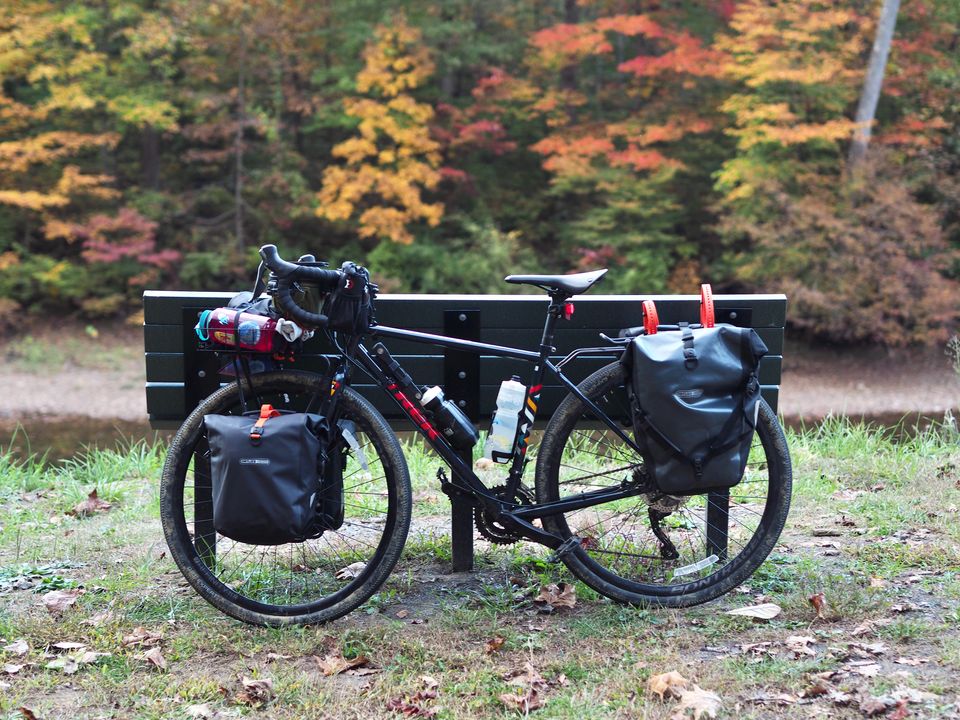 As part of Triangle Bike Camping, five other folks and I drove up to the Greenbrier River Trail on Friday morning. Despite having the same name, the old rail trail is in West Virginia, nowhere near the Greenbrier River Campground in Tennessee where I stayed the weekend prior.
Two folks rode in my truck, along with four bikes and a whole lotta gear in the bed. I really got to test the limits of the tailgate pad, which worked really well for a variety of bikes. The drive up was more or less uneventful, stopping once for gas/snacks/stretching. We had a late lunch at Bellacino's (with one person opting for Fijuyama) and a few of us changed into our bike clothes while we waited for our pizza/sushi.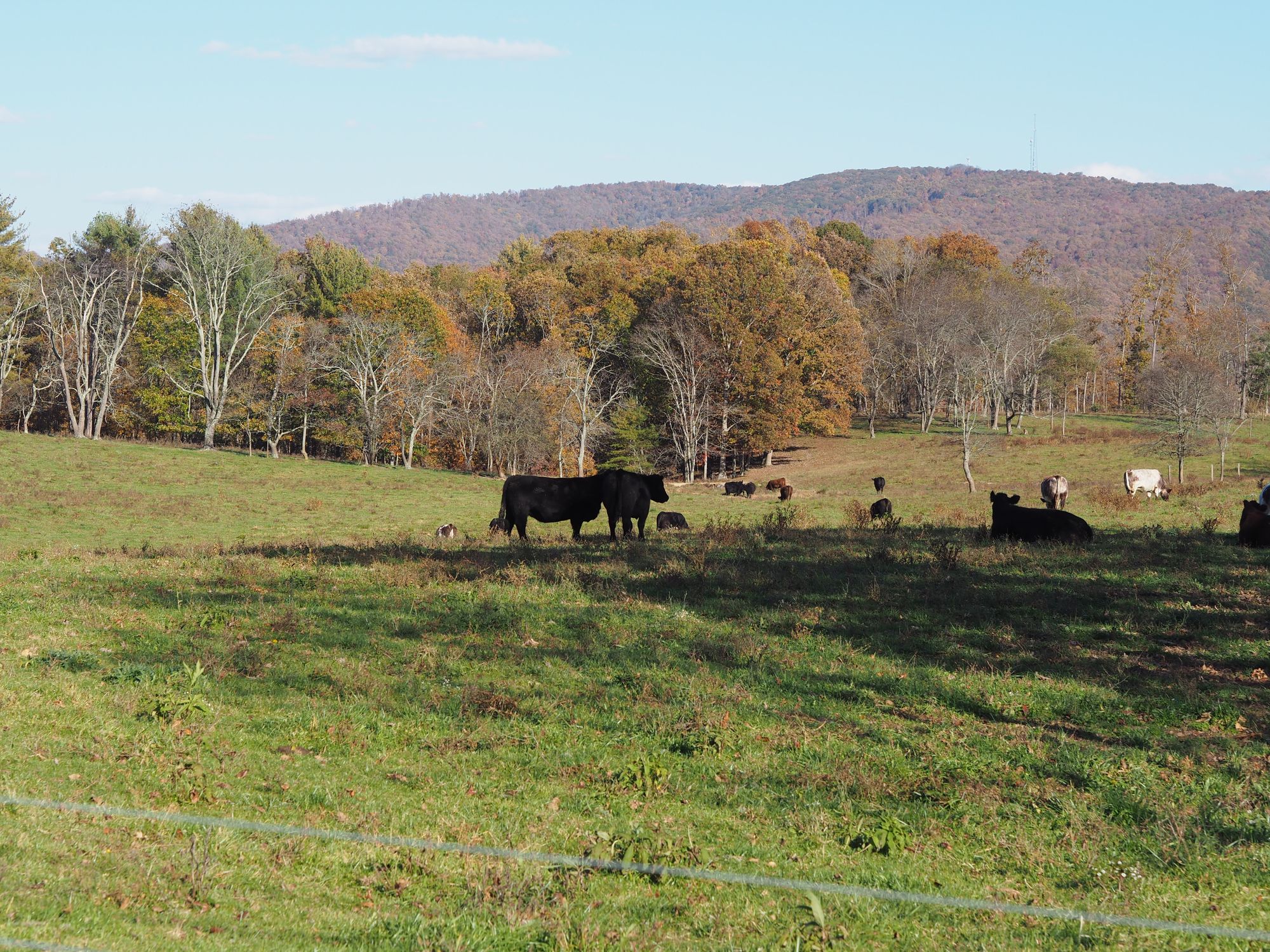 At the trailhead, we unloaded gear and bikes, then loaded gear onto bikes. Then I noticed a flyer saying the trail was closed a quarter mile away, so we took our bikes on the (very steep) detour. Let's just say it was not easy or very pleasant, but we made it to the correct trailhead in time.
We had originally planned to camp at the site at MM28 (mile marker), but since we were behind schedule, we ended up at the MM20 site. There were already two groups of two there, but they reluctantly allowed us to set up camp there as well. I had to hang my hammock in a bit of an awkward spot over some logs, and I couldn't locate my headlamp, which made things got a lot slower. Somebody in our group had brought (kiln-dried) firewood, so we had a little fire while we made dinner. Dinner for me was vegetarian chili from Backpacker's Pantry, a small box of Pinot Noir, and a single s'more.
Went to bed around 10-11pm and slept fairly well. My feet did get cold a few times, and let's just say the chili woke me up on a few occasions as well. 😅💨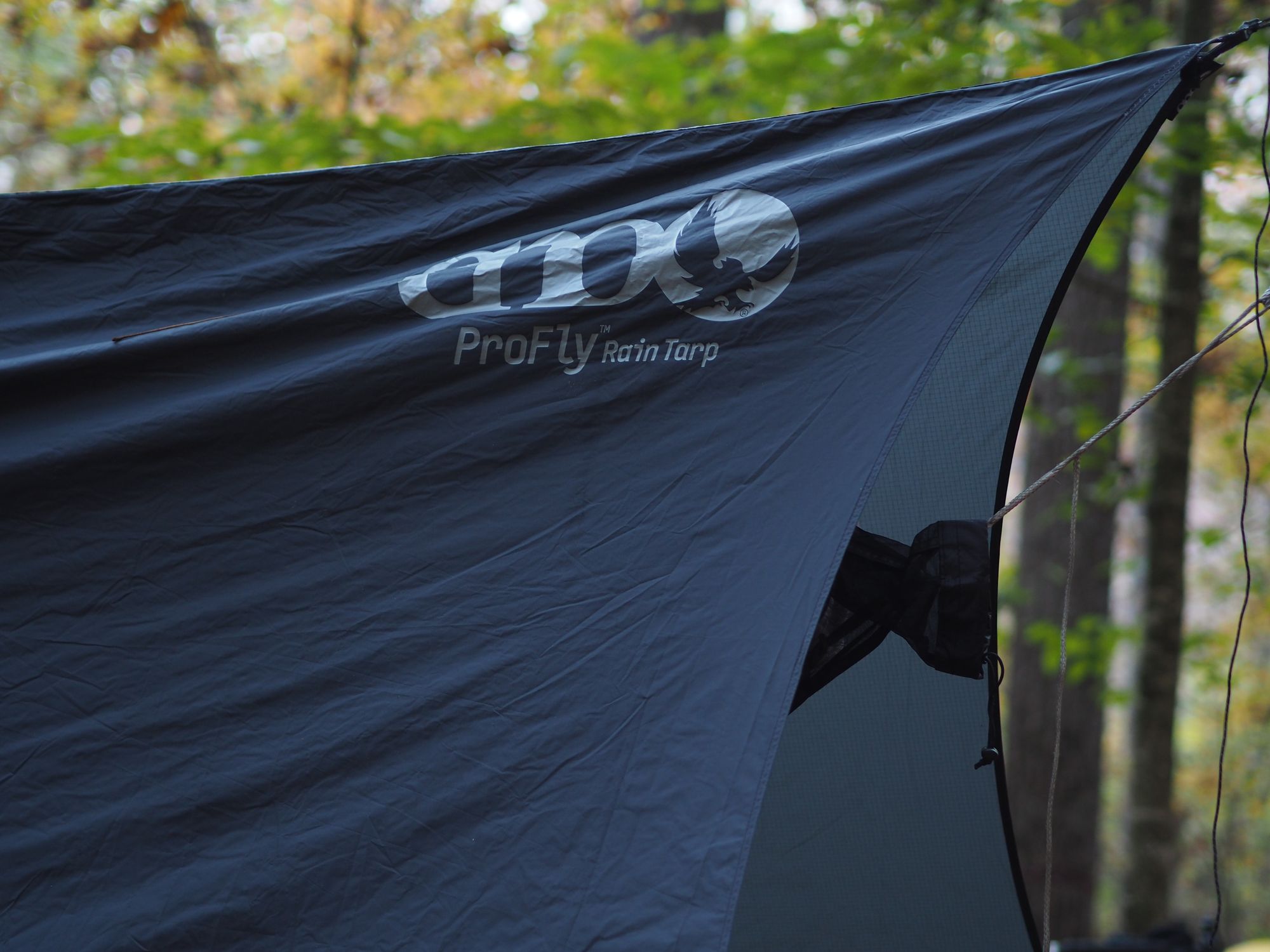 I woke up around 7am the next day, made coffee, then started packing up. If I thought my feet were cold during the night, they were downright freezing Saturday morning. When I went to change into my bibs and jersey, the bottoms were stark white. That definitely slowed things down, and we didn't leave the campsite until after 10am.
We did meet a trail buddy along the way, though I didn't catch his name. He had an adorable little (American Eskimo?) white fluffy dog who ran alongside him on a flexi-lead and would occasionally ride in the bike trailer. He also camped with us at MM28.
Some of our party decided to head back to the campsite at MM28, some of us (myself included) hid our bags in the bushes at MM37, determined to get to Dirtbean for some good food and beverages. I took off ahead, knowing the only way I'd be able to do it mentally was to power through it.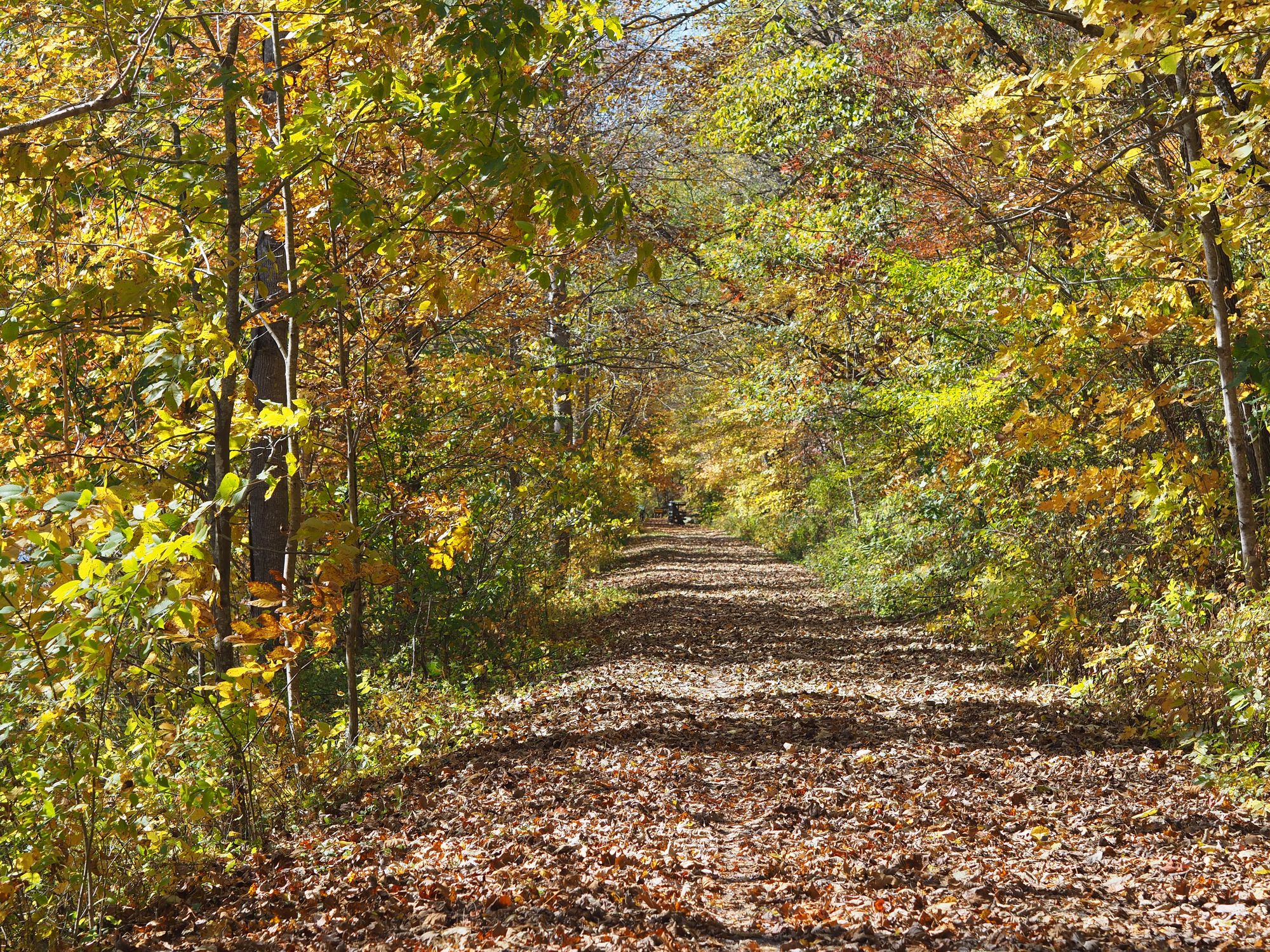 Unfortunately, once I walked in the door a little before 3pm, they told me they were closing, despite their hours saying they were open until 7pm. I was less than pleased with this development, as getting to Dirtbean was the main reason I'd come to Marlinton at all. An older cyclist guy walked up and talked my ear off for the next thirty minutes while I waited on the other two who had decided to come to Marlinton.
We tried another restaurant, but since the wait was going to be at least an hour, we ended up at our second Italian place of the weekend: Alfredo's. One of our party left to go grab a 12-pack of Coors Lite from the grocery store while we waited on our food. I had a big plate of cheese ravioli with a side of Italian bread and a sub-par salad. We also wrapped up half of a calzone to bring back to camp for one of the folks who had stayed behind.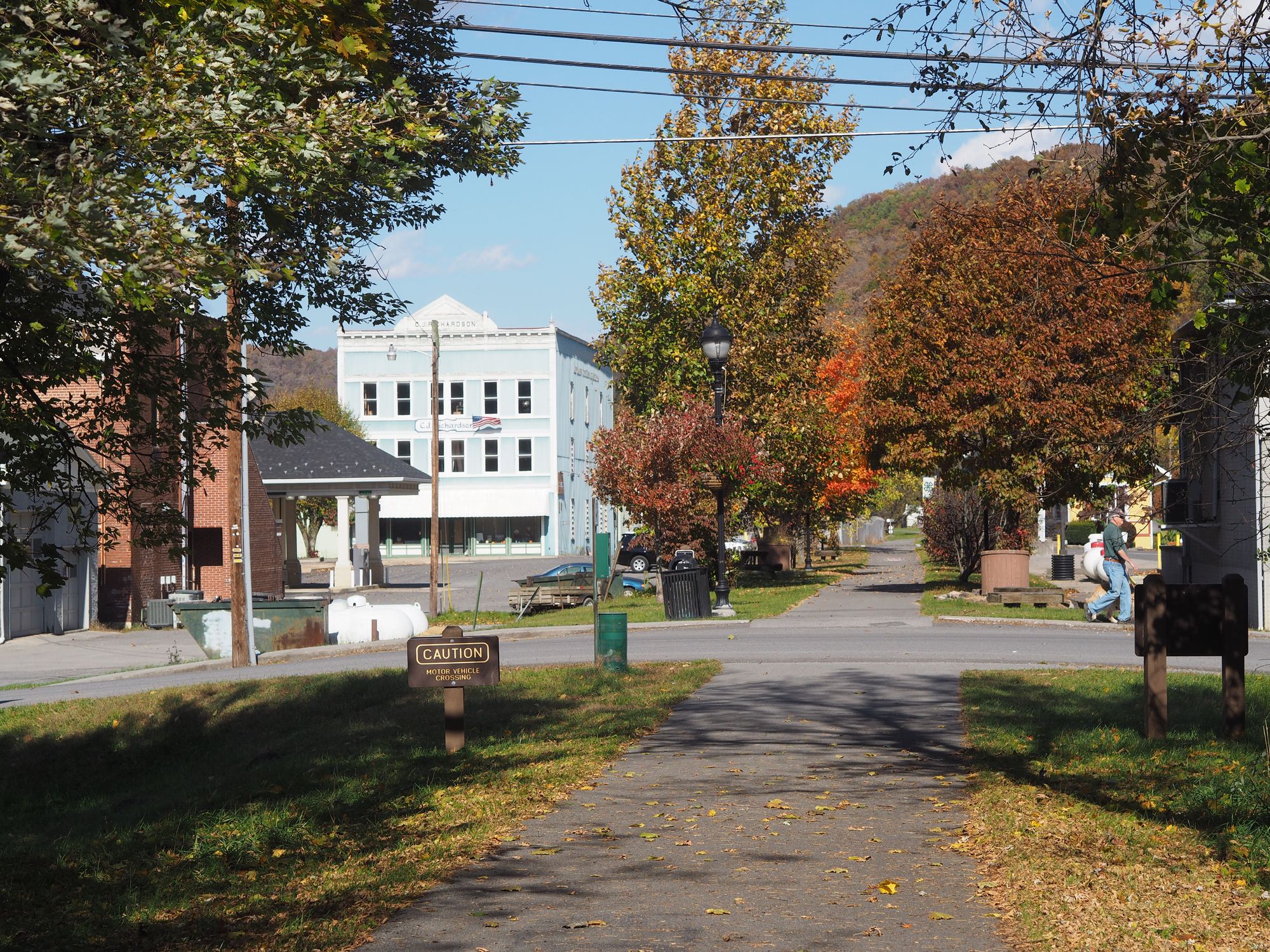 Back on the trail—bound for MM37 for our gear, then MM28 for the campsite—it grew darker as the miles trickled by. I saw at least one owl swoop down right in front of me, and a highlight of the night riding was definitely the big tunnel.
We felt rather victorious rolling into camp that night, and that campsite was much nicer than the one at MM20. More spacious, especially for hammock camping. It also helped that I'd found my headlamp, which made setting up a whole lot easier (after I'd had a beer, of course). I hadn't planned on eating another meal after the ravioli, but I honestly was craving more food, so I had another Backpacker's Pantry meal: this time mac & cheese. We also snacked on more dried mango and peanut butter balls, both of which are going on my camping food list for future trips. I handed my truck keys off to somebody else who planned to ride back to our parking spot and pick everyone up at the easier one to access, then promptly passed out in the hammock.
I slept better Saturday night, whether because I'd done a better job with my underquilt, was just plain tired, or because it was warmer, I'll never really know. Two folks left early to grab the cars, and I took my time packing up, eventually making coffee and some oatmeal to fuel me for the last ~23 miles back. I waved as I passed our dog trailer friend, and I rolled up to the parking lot right after the two who'd gone to get the cars had arrived.
Everybody loaded up, and we stopped at Jack Mason's Tavern for lunch. There was some massive confusion about the beer I ordered (an amber that tasted a lot like a hazy IPA), and I ended up with a brown ale instead. The giant plate of nachos I ordered was very satisfying as well. We grabbed gas on the way out of town, and somebody else offered to drive... and I wasn't about to say no to that!
I arrived home around 7pm, put the bike and bags in the basement, ordered a burrito, and got caught up on my fantasy TV shows.
Packing list
On me
Knife
Helmet
Bibs
Jersey
Bike gloves
Five Ten Freeriders
Bandana
Cycling cap
Watch
On the bike
2x water bottles
Abus folding bike lock
Rear light
Revelate Feedbag
Keys
Wallet
Tamagotchi
Retainer case
Headlamp (second day)
Route Werks Handlebar Bag
Phone
Lighter
Flat kit
Spare tube
Hand pump
Tire levers
Multitool
First aid kit
Front light
Bell
Para cord
Bug spray
Hand warmers
Front basket
Secured with a Surly Loop Junk Strap.
Rain jacket (and occasionally other shed layers)
32 oz Nalgene
Waterproof tech pouch with various chargers
Salsa Anything Bag
Secured with 2x Voile Bike Rack Straps.
Camera battery charger
Shed layers (hat, scarf, gloves, etc)
Ortlieb Gravel-Pack #1
Fire Maple Star X2
Lightweight fork/spoon combo
4x Backpacker's Pantry meals
2x snack bars
Coffee, filters, and silicone pour-over spout
Shelf-stable creamer
2x small boxes of wine
Thermos
Headlamp
Toiletries
Ortlieb Gravel-Pack #2
2x tank tops
2x long sleeve shirts
2x socks
2x undies
Leggings
Sweater
Puffy vest
Camp shoes (Vans)
Scarf
Ear muffs
Gloves
Fleece cycling cap
Ortlieb Back-Roller Classic #1
Hammock
Hammock straps
Rainfly
Bug net
Underquilt
Ortlieb Back-Roller Classic #2