Colorado camper van trip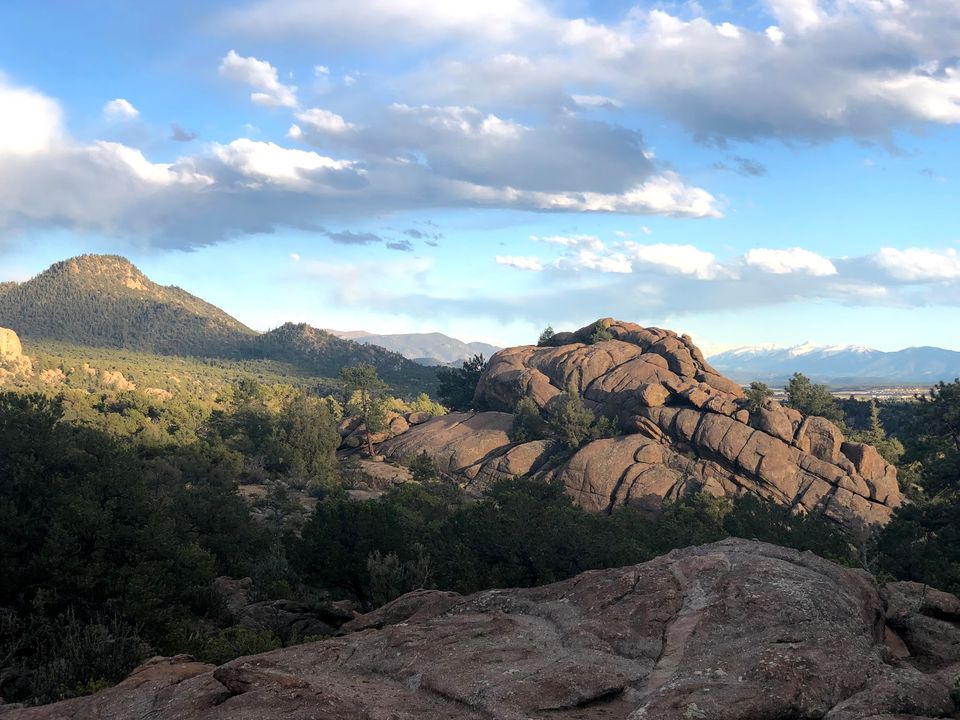 Back in late May, Corey and I rented a camper van and traveled  through Colorado. Each day, we'd wake up, pick out where we were headed,  go for a hike, then camp for the evening. It was an awesome way to  explore the state, see a few friends, and disconnect from the routine of  everyday life.
We picked up our van Saturday afternoon and stocked up on groceries  for the rest of the week. Our first stop was The Colorado Trail, which  overlooks Kenosha Pass. It was a little chilly, so I'm glad we packed  for cooler weather, even in late May. The scenery was worlds away from  what I'm used to here in North Carolina, and the wide open spaces  reminded me of how much space there is just in the United States.
We saw a few of these strange tree structures along the way. Not quite sure what their purpose was.
Once we'd finished our hike,  we piled back in the car and headed to our first campground: Turtle  Rock in Buena Vista. Caught some good views of the mountains along the  way, too.
The campground was pretty crowded (Labor Day weekend will do that),  but we managed to find a legit looking spot and Corey worked on getting  the fire going while I heated up our first real meal on the road: soup!
The next morning, we headed down to the main parking lot where it was  sunnier and cooked up some eggs in a basket and made some coffee.
Once we'd eaten, we packed up and headed to our hike for the day: Columbine and Little Rainbow. This ended up being the longest hike of the trip, as we ended up walking nearly 8.5 miles. The views were gorgeous and the weather was great!
We made lunch, then headed to our next destination for the night:  Corey's cousin's place in Pueblo, Colorado. We stayed there for the  night (not camping, but in a real bed), took showers, did some laundry,  and relaxed for the evening. We set our sights on the Great Dunes  National Park the next day, and off we went! The skies were much clearer  that day, and we were able to get plenty of mountain views from the  car.
We chose a 3.6 mile loop to explore the dunes. The dunes themselves are massive and strange to  see after only looking at mountains for the past few days. We hardly  passed anybody else on the trail, and it was pretty chilly, but not  uncomfortably so. The closer to the dunes, the windier it was, with sand  flying all over the place.
I picked up a beanie at the gift shop (toboggan for you southern  folks) since I'd been chilly the whole day. It ended up coming in handy  that night when we camped, since the temperature dropped quite a bit.  Our camp site was a windy place, mostly vacant, and next to some kind of  reservoir. We cooked up some potatoes, rice, and beans for dinner, then  snuggled up in our sleeping bags to watch some shows we'd downloaded  while we'd had signal earlier in the day.
The next morning, we headed for Garden of the Gods, which is just outside Colorado Springs. We ended up doing a 4.4 mile loop through there to see all the things. We got a little bit of rain while  we hiked, but nothing too terrible, so we weren't soaked by any means.
We weren't able to find any nearby camping that night, so we headed into Colorado Springs for accommodations. We opted for Traveler's Uptown Motel primarily because it was inexpensive and within walking distance to a  few of the places we wanted to check out (brewery and a pizza place).  The room was hilariously decorated with all things horse, which had me  laughing more than I care to admit.
After we met up with Corey's cousin for a few beers at the brewery,  we took some cute (drunk) portraits while we were waiting for our pizza.
The next morning, in an effort to nurse our hangovers, we went to King's Chef Diner.  To give you an idea of their food options, here's their menu. There  were about ten total seats at the bar, cash only, and there were two  employees working at the time. It was a lovely little place and the food  was both delicious and satisfying.
Once we were plenty full of food, we headed to the Cheyenne Mountain Zoo to see some wildlife. I was really hoping to spot some wolf pups, but they were hiding both times we checked. We did get to see some playful bear fights in the water, which was both awesome and terrifying.
After the zoo, we headed to Castlewood Canyon State Park for our final 5.4 mile hike (1, 2).  This ended up being a neat historical site… except for the part where  the engineer of the dam shared my last name and first/middle initials.  And I thought I was the most famous A. M. Welles.
From Castlewood Canyon, we headed back to where we started: Denver.  We went to Pop Culture Con, but I didn't end up taking many photos  there, and none of them turned out very well, so here's a picture of my  badge instead!
The con was a good way to step back into (semi-)reality before we  flew back home from Colorado. I loved that we got to do a ton of hiking  while we were there, and the camper van worked out wonderfully for what  we wanted to do with it. I could definitely see myself going that route  again in the future for faraway destinations that involved camping.